Welcome to International Base Metals Limited
IBML is an unlisted Australian-registered mineral exploration and development company, with a primary focus on investing in and operating on gold and copper mines.
IBML has a major investment in Macquarie Gold Limited (MGL) and its Challenger Gold Mine in Adelong, New South Wales, Australia. MGL has been constructing facilities capable of handling 100,000 tonnes of ore per annum and producing gold at a rate of 12,000oz to 15,000oz per year from MGL's existing JORC defined resource in the Challenger Deposit. A test run of the crusher unit was carried out successfully in late May 2016 and commissioning of the mill has commenced.
Through IBML's wholly-owned Namibian subsidiary, Craton Mining and Exploration (Pty) Ltd ('Craton'), IBML holds the Omitiomire copper deposit which contains a resource of almost 750,000 tonnes of contained copper metal. IBML plans a two-stage approach to bring Omitiomire into production: Phase 1 - a modest-sized project based on near-surface oxide copper and mixed oxide-sulphide copper; Phase 2 - a larger project based on the deeper sulphide copper resource. The Company completed a Definitive Feasibility Study for the Phase 1 operation in late 2013 and is awaiting the grant of a Mining Licence.
IBML has additional exploration projects in Namibia and Australia.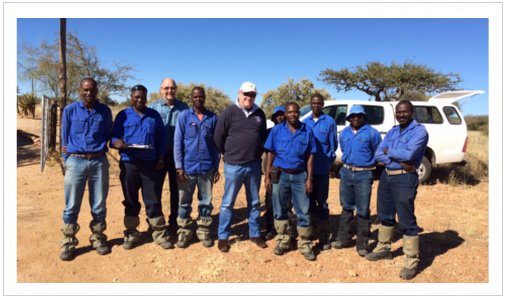 IBML's Chairman, Hugh Thomas, visiting field crews in Namibia.
Craton Director, Karl Hartmann, is third from left